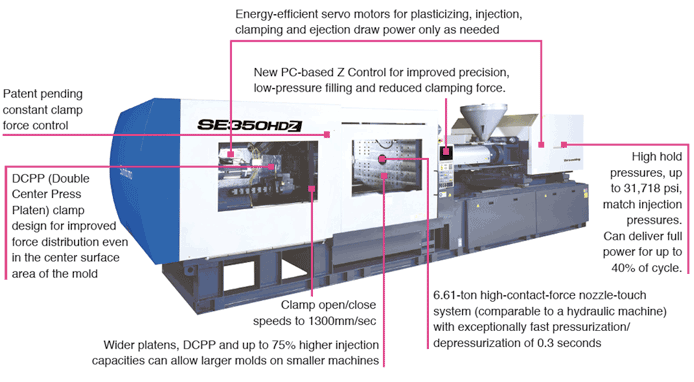 SE-HDZ Series
High-Duty Mid-Sized All-Electrics
Sumitomo (SHI) Demag's mid-sized SE-HDZ Series all-electric injection molding machines, 242 to 496 US tons, were specifically designed for high-duty applications such as thick parts and parts with cycle times in excess of 15 seconds.
With the SE-HDZ, you'll find high hold pressures, up to 31,718 psi, that exactly match the injection pressures. For large part molding, there are also high injection capacities, up to 75% greater than a typical machine. Equipped to deliver full power for up to 40% of the cycle, this machine series ensures exceptional stability, outstanding machine durability and the ability to handle even the toughest high-duty application.
Raising the bar for injection molding machine control, the SE-HDZ is equipped with Sumitomo's new Z Control, an easy-to-use PC-based control that provides a new level of injection molding precision with low-pressure filling and reduced clamp force. Unique attributes of the Z include:
The all-electric SE-HDZ features four, Sumitomo-built, AC servo motors with digital-to-digital, closed-loop control. All four motions — plasticizing, injection, clamping and ejection — are controlled by these motors. Using highly energy efficient servo motors, the SE-HD draws power only as needed and provides significant, quantifiable energy savings. Demand on cooling systems and expenditures related to hydraulic oil and filters, oil clean-up and disposal are reduced. Combined with the exceptional precision repeatability and cycle time optimization of these machines, the result is less cost and higher yield for improved overall productivity.
Several innovative features, unique to Sumitomo (SHI) Demag, can also be found in the SE-HDZ:
The SE-HDZ is backed by Sumitomo (SHI) Demag's comprehensive Customer Satisfaction Program which includes the industry's best warranty program, worry-free parts, responsive field service and financing availability.
Please use the SE-HDZ Info links above at the left for more information about this series of mid-sized high-duty all-electric injection molding machines.