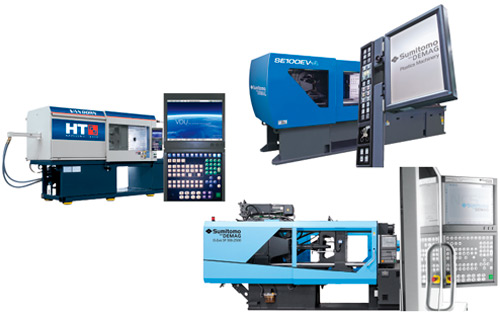 Training to Meet Your Needs

2019 TRAINING BROCHURE

2019 REGISTRATION FORM
Sumitomo (SHI) Demag Plastics Machinery offers a carefully prepared training experience that satisfies the needs of all who participate. Therefore, if you are new to the injection molding process or a veteran of processing challenges, you will learn valuable information you can apply to your job responsibilities.
Our training courses cover processing, machine optimization and maintenance on our current machines as well as on a variety of our older machines. The courses are all designed to help improve your molding efficiency and overall productivity by achieving the optimum performance of your Sumitomo, Demag and Van Dorn machines.
Customized in-plant programs
Customized training programs, held at your facility using your equipment, are available for all Sumitomo, Demag and Van Dorn machine models. Our Training team will work with you to design an individualized program that will best meet your needs - from hands-on machine operation and maintenance to advanced processing and application specific process optimization.
Pre-scheduled classroom training
Affordably priced, pre-scheduled training courses are offered at Sumitomo (SHI) Demag's training facilities, away from production concerns and responsibilities. Detailed course descriptions, dates and costs for 2019 can be found by clicking here. Where possible, corresponding courses are consecutively scheduled, allowing attendees to take both courses in a single trip.
A choice of locations
Sumitomo (SHI) Demag offers customers a choice of three locations:
Customized training in your facility
Pre-scheduled training in our Cleveland Tech Center in Strongsville, OH (most machine/control series)
11792 Alameda Dr.
Strongsville, OH 44149
PH: 440-876-8960
Fax: 440-876-4383
Pre-scheduled training at the new Atlanta Tech Center in Suwanee, GA (SE Series all-electric machines*)
class="content">
410 Horizon Dr., Suite 200
Suwanee, GA 30024
PH: 678-892-7900
Fax: 770-441-9168
*It is also possible to arrange scheduled classroom training for Demag and Van Dorn machines in our Atlanta Tech Center. Please use the contact information below to discuss your requirements.
Additional information and registration
For additional information on pre-scheduled training or customized programs, please contact Mark Lepole at 440-876-6203 or via email at Mark.Lepole@sdpmna.com.
To register for any of the pre-scheduled classes, use the registration form found here or on the back page of the brochure.
Don't see a class for your machine/control? Schedule doesn't fit yours? Please call us.