High-Speed Injection Molding Machines for Thin-wall, Packaging and Caps and Closures Molding
Sumitomo (SHI) Demag provides an unmatched range of injection molding machinery solutions to meet the needs of high-speed packaging, caps and closures, buckets, containers and other thin-wall product applications. From the ultra-high-speed hybrid El-Exis SP and the exceptionally energy-efficient all-electric SE-HSZ PACK injection molding machines, to the new, economical hybrid Systec SP Series, we have packaging molding solutions to meet all your application, productivity and profitability requirements.

A "true hybrid" machine, Sumitomo (SHI) Demag's El-Exis SP injection molding machine series offers the industry's best combination of ultra-high-speed, precision, energy efficiency and reliability. Available in model sizes from 169 to 843 U.S. tons, the El-Exis SP combines: ultra-high-speed injection via hydraulic accumulator and servo-valve; an energy efficient electric screw drive for maximum plasticizing capacity and melt homogeneity; and a clamping unit with AC servo drive and hydrostatic transmission for high-speed, energy-efficient mold open/close. Read more...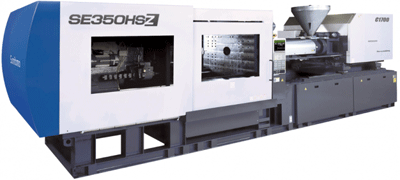 For molders preferring an all-electric machine for their packaging applications, Sumitomo (SHI) Demag's SE-HSZ-Pack high-speed all-electric injection molding machines bring the advantages of advanced direct-drive motor technology to high-speed packaging molding applications in the mid-tonnage range. Available in 308 and 385 U.S. ton models (280 and 350 metric tons), the SE-HSZ PACK provides the energy efficiency, cleaner molding environment and precision benefits of an all-electric combined with the higher speeds and pressures typically found only on high-performance hybrids and hydraulics. Read more...

Sumitomo (SHI) Demag's economical hybrid Systec SP Series of injection molding machines is ideally suited for the production of buckets, flip tops, stacking boxes and covers with cycle times in the 4- to 12-second range. Based on the El-Exis SP platform, the Systec SP combines a hybrid servo-hydraulic drive system with high-speed injection via energy-optimized hydraulic accumulator, servo position control for fast and precise injection and a high-torque electric direct-drive motor for high plasticizing capacity. This new series is available in model sizes from 180 to 472 U.S. tons. Read more...