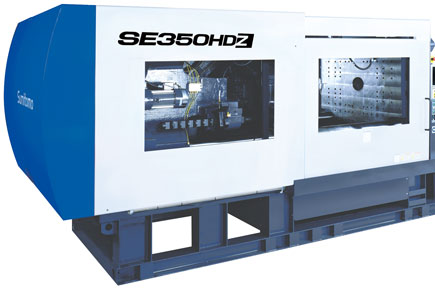 SE-HDZ Clamp Features
For clamping, Sumitomo (SHI) Demag's new SE-HDZ mid-sized, high-duty all electric injection molding machines provide the high performance combination of Sumitomo's advanced servo motor technology with the company's field-proven, double toggle clamp design. The result is mold open/close operation that's remarkably fast, smooth, precise and energy efficient.
The SE-HDZ is equipped with a wide range of innovative features that reduce clamp force requirements, ensure clamp force stability, provide improved force distribution and mold protection, and even allow molds to run on smaller machines. These features include:
The new Z Control's Minimum Clamping Molding (MCM) System that determines the minimum force required at mold touch. Using this system can avoid excessive clamp force which can result in mold deformation and poor release of gases.
A unique clamping force correcting system that uses a sensor on the tie bar (strain gauge) that measures actual clamp tonnage and ensures constantly stable clamping force
Double Center Press Platen design that ensures superior surface pressure balance even in the center surface area of the mold
High-precision mold height adjustment using a highly precise rotary encoder
The motors used for clamp and ejector operation on the SE-HDZ are digitally controlled AC servo motors. Precision clamping is assured by full, closed-loop control of mold open/close velocity and position. As with the injection unit, the motors for each model size are selected based on achieving the best combination of performance, size and price.
To enable exceptionally fast cycling compared with most electric machines, mold open/close speeds on the SE-HDZ are 51.2 in/sec (1300 mm/sec) for the 220 through 350 models and 45.9 in/sec (1167 mm/sec) for the 450. The SE-HDZ also has five-stage mold open/close speed control and ramping for:
Optimization of mold open/close profiles for fast cycles with shock-free movement
Reduced cycles for 3-plate and slide-core molds
Features of the SE-HDZ supporting fast, easy mold changeovers include the increased distance between tie bars, simple (digital remote) clamp force adjustment, increased space for tie-in of ejector rods and a selectable nozzle position for purging.
Multi-toggle clamp force control, a standard feature on the SE-HDZ, offers two modes: a high-cycle mode in which filling can begin during clamping for improved cycle time; and a gas-release mode in which filling can begin during low-pressure clamping for improved part quality.
For optimum life of the ball screws, toggle pins and tie bar bushings, the SE-HDZ is equipped with a highly reliable, automatic grease supply through a valve-type progressive distribution system. This system uses an externally mounted pump unit with easy-to-load grease cartridges that can be changed without interrupting machine operation. Additionally, the grease level is monitored via sensor, and the machine shuts down automatically if the grease level becomes too low.
Please use the Info links above at the left for more information about the SE-HDZ mid-sized, high-duty all-electric injection molding machine.