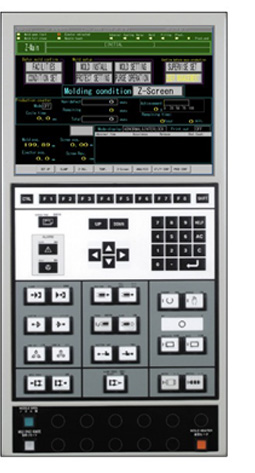 The Z Control
Sumitomo (SHI) Demagís Z Control is the easy-to-use PC-based control that provides a new level of injection molding precision with low-pressure filling and reduced clamp force.
The user-friendly Z Control combines the advantages of the popular N-Series controls with new systems and capabilities to help molders achieve zero-defect molding and optimum machine performance.
The Z Control is only available on SE-DUZ, SE-DUZ-HP, SE-HSZ, SE-HDZ and CL7000 machines.
The new systems and capabilities of the Z Control include:
New Flow Front Control (FFC) System takes advantage of the energy in the flow front of the resin to complete filling in an even fashion as opposed to forcing material into open areas and thus flashing or over-packing the areas that were already filled.
New Minimum Clamping Molding (MCM) System works together with the machine's Clamp Force Correcting System to compensate for the thermal expansion of the mold. Using a high precision rotary encoder and tie-bar-mounted strain gauge sensor, this feedback system keeps clamping force constantly stable, even at low clamp force settings.
New Simple Process Setting (SPS) System allows easy setup and operation while helping the operator avoid oversights and mistakes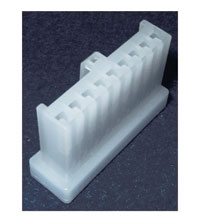 In testing on this connector application, the Z Controlís Flow Front Control capability allowed pressure inside the cavities to be reduced by nearly 50%. This reduction in turn allowed significant reduction in the clamping force.

Z CONTROL INFO
---

Intro
---

FFC System
---

MCM System
---

SPS System
---

Benefits
---

Screens
---

Standard Features
---

Brochure pdf