SE-HSZ PACK High-Speed Electric Injection Molding Machines
For Thin-wall, Packaging and Caps and Closures Applications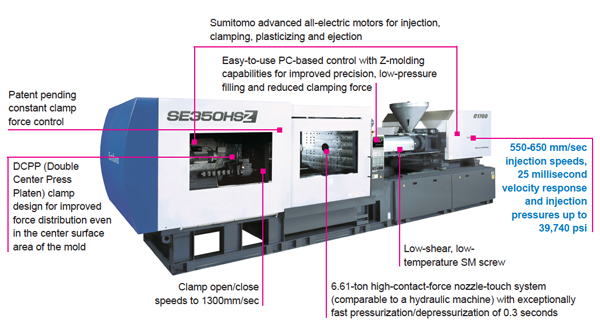 For molders preferring high-speed all-electric injection molding machines for their packaging applications, the SE-HSZ PACK Series brings the advantages of Sumitomo (SHI) Demag's advanced direct-drive motor technology to high-speed packaging molding in the mid-tonnage range. Available in 308 and 385 U.S. ton models (280 and 350 metric tons), the SE-HSZ PACK provides the energy efficiency, cleaner molding environment and precision benefits of an all-electric combined with the higher speeds and pressures typically found only on high-performance hybrids and hydraulics.
Equipped with direct-drive motors for both injection and clamping, the SE-HSZ PACK is ideally suited for thin-wall and packaging parts that run on fast cycle times and require high injection speeds. These direct-drive motors have a lighter, more compact, low-inertia/high-torque design that draws power only as it is needed, is easier and faster to stop and start, and is exceptionally precise. The resulting performance specs speak for themselves:
Higher Injection speeds of 550 to 650 mm/sec
Velocity response of 25 milliseconds
Injection pressures up to 39,740 psi
Mold open/close speed of 51.2 in/sec (1300 mm/sec)
Raising the bar for injection molding machine control, the SE-HSZ PACK is equipped with Sumitomo's Z Control, an easy-to-use PC-based control that provides an exceptional level of injection molding precision with low-pressure filling and reduced clamp force. Unique attributes of the Z include:
Several other innovative features, unique to Sumitomo (SHI) Demag, can also be found on the SE-HSZ PACK:
The SE-HSZ PACK is backed by Sumitomo (SHI) Demag's comprehensive Customer Satisfaction Program which includes the industry's best warranty program, worry-free parts, responsive field service and financing availability.
Please use the SE-HSZ PACK links above at the left for more information about this series of mid-sized high-speed all-electric injection molding machines.