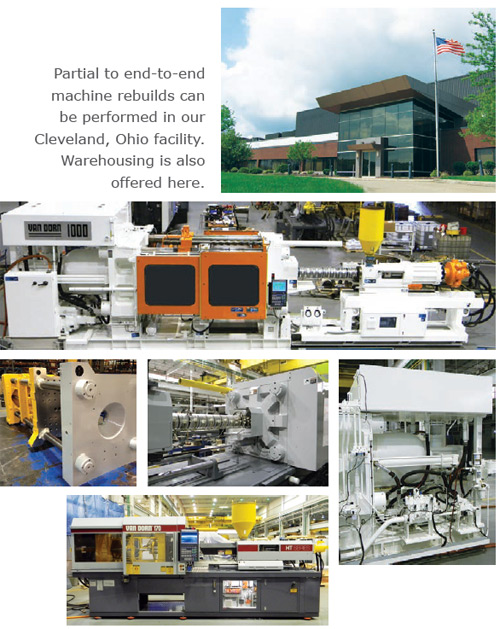 REBUILDING, TRADE-INS AND FINANCING
Decommissioning or removing an existing machine from your fleet takes careful planning. The two primary paths are rebuilding or replacement with a new machine.
In addition to our new machinery, Sumitomo (SHI) Demag is here to assist with expert machinery assessments, machine rebuilding, trade-ins for all makes and models and financing options that will best meet your plastics processing and business needs.
OEM REBUILDING FOR VAN DORN DEMAG INJECTION MOLDING MACHINES
Options include:
Machinery assessments at your facility or wherever the equipment is located, analysis and recommendation of options
Total injection unit rebuild, repair or replacement
Hydraulic ram and toggle linkage rebuild, repair or replacement
End-to-end machine rebuilding
VDU®Retrofit Control upgrade
Other machine enhancements (click here for examples)
Trade-in Program for All Makes and Models
For injection molding machines that no longer meet your business requirements, we offer a flexible trade-in program. A trade-in of any make and model IM machine can be applied as:
A down payment towards the purchase of a new Sumitomo (SHI) Demag machine
Or as a credit redeemable for retrofit solutions, machine rebuilding, replacement parts or technical service and training
Financing Solutions
Sumitomo (SHI) Demag, working together with U.S. Financial, provides competitive rate programs for the purchase of new machinery, molds and auxiliaries as well as the purchase of used machinery, retrofits and machine rebuilding.